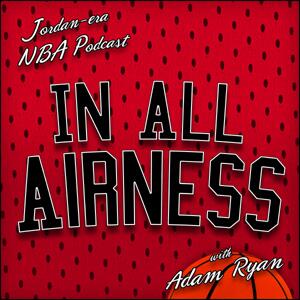 A year ago, today, I released my first podcast episode. Eternal thanks, Bill Wennington; helping me set sail on the journey. Time now, for us to reminisce.
The premise for my podcast was simple; in theory. I planned to chat with (primarily former) NBA players, personalities and media. That, coupled with NBA history conversations with my basketball-obsessed friends. The latter, was achieved rather easily. The former? Well, that's a Mark Eaton-sized stumbling block.
Since 1989, I've been completely obsessed by all-things NBA; particularly, Michael Jordan-era. I read voraciously – countless Basketball Digest, Hoop, Pro Basketball Today and a myriad of other magazines and annuals. I've pored over 20+ year-old box scores, more times than you would believe. I have spent an unimaginable number of hours, watching NBA games and programming on VHS and DVD. As for today's digital age – don't even go there.
All that aside, the problem remained – how could a (currently) non-credentialed NBA enthusiast, in Australia, chat with high-profile players and personalities? The Internet allows people to connect like never before. I have been equal parts thrilled and humbled, by the generosity that each guest has shown, agreeing to take time to speak with me. In turn, they have allowed me to compile a collection of episodes that I couldn't be prouder of.
Perhaps, even greater, is the fact that past guests willingly vouch for my research and podcast preparedness. I have one opportunity to make a great first impression on these people that I admire – I don't intend to waste that.
@inallairness You're only one to pick up on it….which is why I enjoyed our fireside chat

— Peter Vecsey (@PeterVecsey1) March 4, 2013
Importantly, this podcast journey has also allowed me to meet many great people, who I now consider friends. I thank each and every person who has taken time to listen to one, some or all of my episodes. Further, thanks to those who have also helped spread the word about my show – you know who you are – it's greatly appreciated.
I have plenty more great guests and episodes in the pipeline – stay tuned, as the journey continues into 2014 and beyond. Also, I plan to add much more great content, here on my website.
Here are some statistics, for those interested in my podcast's distribution:
Top 5 – Countries (total downloads):
USA, Australia, Canada, United Kingdom and Iceland.
The 'Top 5 U.S. Markets' are San Francisco (includes Oakland and San Jose), Chicago, New York, Los Angeles and Philadelphia.
Here in Australia, the 'Top 5 Regions' are Victoria, New South Wales, Western Australia, South Australia and Queensland.
To date, the show has been heard in 105 countries!
As always, I encourage you to interact with the podcast and here on the website. You are a part of the In all Airness community. I welcome your suggestions, comments and feedback.
Thanks for your wonderful support. I want to also thank my amazing wife, for her support, too. Without her patience and understanding of my hoops obsession, this podcast would not be possible. Here's to many great years ahead!
Adam